BMS Band and Choir Perform in Winter Concert
41 minutes ago
BMS Leadership Team
4 months ago


Hello! My name is Landon Pollard and I am honored to be serving in my 8th year as principal of Byhalia Middle School. I've worked in several districts across our state before coming to Marshall County, including Jackson Public Schools, Clinton, and Canton school districts.

I am a three time graduate of the University of Mississippi, earning my Bachelor's in English, Master's in Curriculum and Instruction, and Specialist's in Educational Leadership. Go Rebs!

I currently live in Memphis with my wife, who is a fellow educator, and our young daughter.

I'm extremely excited about the progress our school and students have made at BMS in the past several years, and I look forward to working with our new students, parents, and teachers to continue that growth.

Please do not hesitate to contact me if you have any questions or concerns about your child's education.
Landon Pollard
Principal


Hello! My name is John Danley and I am honored to be serving in my 2nd year as assistant principal of Byhalia Middle School. I've worked in several districts across our state before coming to Marshall County, including Greenville Public Schools and Desoto County School districts.
I am a graduate of Prairie View A & M University, earning my Bachelor's Degree in Health & Human Performance and my Master's in Educational Leadership from Grand Canyon University.
I currently live in Olive Branch with my wife, three daughters and son who is currently studying at the University of Oklahoma. I look forward to working with our new students, parents, and teachers to make this a great year.
John Danley
Assistant Principal


Hello! My name is Elizabeth Towle, and I am excited to be serving as assistant principal of Byhalia Middle School. I attended college at Harvard University, receiving a B.A. from the Committee on Degrees in Social Studies. Additionally, I earned a Master's in Curriculum and Instruction and a Specialist in Educational Leadership from the University of Mississippi. I look forward to another great year at Byhalia Middle School. I always enjoy working with our wonderful students, parents, and teachers.
Elizabeth Towle
Assistant Principal
Greetings! My name is Ms. Tina Kimmons. I've been working as a Professional School Counselor for almost 10 years. I've received my undergraduate degree in Social Work. But, after working with children for 3 years as a Mental Health Therapist, I decided to pursue my Master's in Counseling in Educational Setting.
I love working with children and believe that every child can succeed regardless of his/her background!
I have a precious little son name Caiden Noel Kimmons. He keeps me busy!
I am here at BMS to serve the children, parents, and our wonderful staff. Please feel free to contact me via telephone (662)838-2591 or email: tkimmons@mcschools.us should you need assistance. Go Indians!
Tina Kimmons
Counselor
BMS Robotics Team Receives Donation
about 1 hour ago
Byhalia Middle School's Robotics Team was presented with a $500 check from Northcentral Electric and the Tennessee Valley Authority. Pictured are Megan Lonsdale (robotics sponsor), Mayor Phil Malone, members of the BMS Robotics team, and representatives from Northcentral and TVA. Thank you to these organizations for your support!
Counselor's Corner
3 months ago
"Believe You Can and You're Halfway There" ~Theodore Roosevelt
Ms. Tina Kimmons, M.Ed, NCSC, NCC, MHT
Mission Statement:
To help all students to be successful!
What is a School Counselor?
A school counselor is a certified, trained, and caring professional who works with all students, parents, teachers, staff and the community, in order for each student to achieve academic and social success.
Services Provided
School counseling services are delivered in four ways: (1) Classroom Guidance Lessons (delivered to all students & based in the areas of personal/social, academic and career development), (2) Individual Student Planning (one-on-one assistance with goal formation/planning), (3) Responsive Services (brief counseling, crisis intervention, problem-solving, peer mediation) * If a student needs mental health counseling, I will refer the family to community counseling resources. (4) System Support (school-wide programming, consultation with school & community professionals, and support for students and their families).
Individual Counseling
Individual counseling sessions with students are initiated by referral from teachers, parents, administrators or peers. Students also self-refer.Counselors have an open-door policy. However, if counselor is not in the office, students may leave a note to the counselor under the door. The counselor will schedule a time for the counseling session.Sessions may include expressing feelings, problem-solving, decision-making, conflict resolution, career and academic counseling.Follow-up is done as needed.
Small Group Counseling
Counselors organize and lead small group counseling sessions for students experiencing similar problems. Students can be recommended for small group counseling by administrators, teachers, parents, and through self-referrals. Small group counseling sessions will be conducted for four to six sessions based on student needs and schedules. The small groups for counseling will consist of 4 to 6 students.
Classroom Guidance
The following topics may be presented to each grade level through classroom lessons (delivered through Social Studies classes): Counselor Introduction/Getting Along with Others / Bullying / Sexual HarassmentCareer Awareness / Exploration/ Other topics as needed or requested by teachers
Counseling Crisis Situations
When a crisis occurs that impacts students or staff, counselors will provide classroom support or individual counseling.Follow-up sessions will be done, if necessary, and counselor will meet privately with individual students as needed.
School Wide Programs
DIAMOND Mentoring Program




Character Education Program

Citizen of the Month




National Child abuse Prevention (April)

Food Backpack Program (support for students with economic needs)




Bully Prevention/Drug Prevention Program (Red Ribbon Week)

Angel Tree Program (Christmas only)(support for students with economic needs)
7th Graders Visit Chucalissa Archaeological Site 
about 1 hour ago
BMS Awarded "High Progress Reward School"
2 months ago
"On March 25, 2015, Byhalia Middle School was recognized for two awards at the MS Department of Education's "Champions of Change" Conference. First, we were recognized as one of 33 schools state wide to receive the status of "High Progress School." This is awarded "to schools across the state for demonstrating the greatest gains in closing achievement gaps among students.
This award status goes to schools that represent the highest 10% of schools that have improved in overall performance over the past two years and all within the top quartiles of schools in performance gains of the lowest 25% subgroup.
"Additionally, Byhalia Middle School was recognized as one of 20 schools state wide to receive the status of "Title I Distinguished School." This is "awarded to the top 20 Title I schools who have effectively closed the achievement gap between the black and white student subgroups in Reading/Language Arts and Mathematics for two or more consecutive years "As an added surprise bonus, each of the Title I Distinguished Schools received a check for an additional $23,750.05 in Title I funds to be spent at our discretion. Picture above is myself and Mr. Moore receiving the awards and check from State Superintendent Dr. Wright and Director of Federal Programs Marcus Cheeks.
Needless to say, this is a HUGE accomplishment for everyone associated with BMS - the students, the teachers, the faculty and staff, and the parents. THANK YOU to everyone who has dedicated countless hours and hard work to giving our students a fantastic education.I was and am extremely proud to say we have such a phenomenal team.L. Pollard, Principal"
Pictured above is Landon Pollard, Principal of BMS, Jerry Moore, Superintendent of Marshall County Schools and Carey M. Wright, Ed. D., State Superintendent of Education
Receive Bus Announcements on your Phone
5 days ago
To receive announcements regarding your student's individual bus, sign up for their routes Remind101 account. You will receive alerts whenever your child's bus is either early or late.
Bus 1 (Ables) Text: @hh389 to 81010
Bus 6 (McClatchy) Text: @b99feh to 81010
Bus 8 (Davis) Text: @dghk4 to 81010
Bus 12 (Vern Riley) Text: @gkhcfg to 81010
Bus 12 (Kimbrough) Text: @abdfk3 to 81010
Bus 17 (Carson) Text: @8fb834 to 81010
Bus 19 (Taylor) Text: @9d3k79 to 81010
Bus 22 (Jones) Text: @g6cgcd to 81010
Bus 29 (Griffin) Text: @dd6d72d to 81010
Bus 31 (Anderson) Text: @93k49 to 81010
Bus 33 (Harden) Text: @c32d79 to 81010
Bus 46 (Kelley) Text: @hh4gcd to 81010
Bus 47 (Lance Elliot) Text: @f3d2ff to 81010
Bus 45 (Dancy) Text: @627cd38 to 81010
Bus 49 (Hoey) Text: @e79bh to 81010
Bus 50 (Holloway) Text: @a32kg to 81010
Bus 53 (Riley) Text: @ah47fc to 81010
Bus 53 (Wooten) Text: @bfcc7b to 81010
Bus 54 (Young) Text: @fd329e to 81010
Bus 58 (Hardaway) Text: @fe9df6 to 81010
Bus 60 (Hood) Text: @bfc3h to 81010
Bus 65 (Benson) Text: @gd2ddg to 81010
Bus 68 (Anthony) Text: @238c8h to 81010
Bus 73 (Eibel) Text: @762f7d6 to 81010
Bus 74 (Holmes) Text: @fddkdh to 81010
Bus 76 (Rogers) Text: @ca7fgb to 81010
Bus 81 (Rodney Elliot) Text: @444fgd to 81010
Bus 82 (Cordle) Text: @g2ekak to 81010
Bus 84 (Wilson) Text: @4ka94 to 81010
BMS Eighth Graders Attend Global Fair
about 1 hour ago
International students from the University of Mississippi visited Byhalia Middle School to teach our students about their home countries during a Global Fair. Our eighth graders were able to meet university students from countries like China, Greece, and Australia and ask them questions. The fair served as an excellent supplement to their World Geography class.
BMS After-School Enrichment Clubs
about 1 hour ago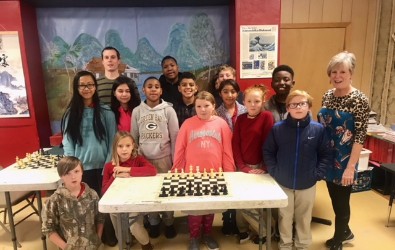 In an effort to provide our students with more opportunities to engage in rigorous, intellectually challenging experiences, BMS has started several after-school enrichment clubs. This year's clubs include the chess club, Mathcounts, current events club, cultural capital club, and creative writing club. BMS also has a robotics team.
Ms. Brailsford named BMS Teacher of the Term!
26 days ago
Congratulations to Antionetta Brailsford, 8th grade Math teacher, for being selected by her peers as our 1st Quarter 'Teacher of the Term'! Ms. Brailsford is pictured with her 2nd period Honors Math class.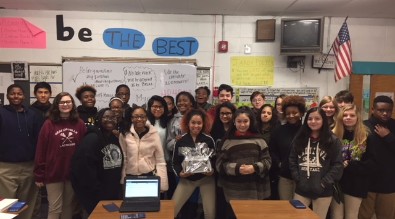 Employment Opportunities
5 days ago
Job Openings for 2017-2018 School Year:
Updated August 23, 2017
Bus Drivers
Contact Information: 662-838-2591 (Ext 112) or lpollard@mcschools.us